Peel's Lemon Strip
EASY ON - EASY OFF
Peel's Lemon Strip Paint Stripper is the safer alternative to traditional paint removers.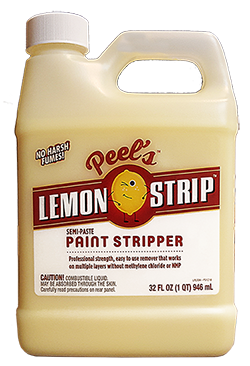 NO HARSH FUMES!
• SAFER - FORMULATED WITHOUT METHYLENE CHLORIDE OR NMP
• SEMI-PASTE FORMULA STRIPS PAINT, VARNISH, LACQUER & EPOXY
• USE ON WOOD, METAL, MASONRY & MARINE
• SEMI PASTE FORMULA CLINGS TO VERTICAL SURFACES
DIRECTIONS:
1) Protect surrounding areas with a heavy plastic drop cloth.
2) Begin by working on a small area to familiarize yourself with product and results.
3) Pour product into a metal container. Brush a thick coat onto surface until fully covered.
4) Allow product to penetrate until finish softens. Time may vary. Multiple coats of finish may require overnight application.
5) Test surface with a plastic paint scraper to ensure finish has lifted and is ready for removal.
6) Remove paint with scraper. For multiple layers where residue remains, repeat steps 1-6.
7) Once coating is removed, use a clean cloth dampened with Crown® Mineral Spirits to clean surface.
8) Ensure the surface is completely clean and dry before refinishing.
Size: Quart